Currently, interior doors perform not only a practical function but they are also used as a bright accent that can highlight your individual interior style. Pivot doors is a genuinely wonderful solution to enhance the overall impression of your space while achieving the desired decor. This type of door is characterized by a fastening method and exceptional construction allowing them to rotate 180° and to be open in any direction. This option makes pivot doors an efficient solution for various spaces ranging from cramped corridors and living rooms to compact halls and storage rooms where every saved millimeter is a reason to be happy. Moreover, pivot interior door is an out-of-the-ordinary interior design solution that will accessorize your home with a beautiful architectural element while bringing a touch of elegance.
Major Types of Pivot Interior Doors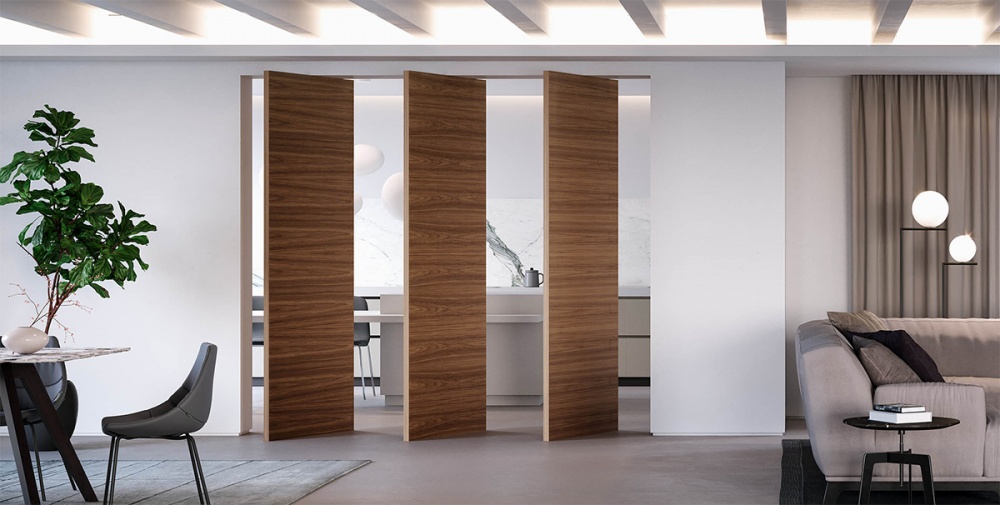 In general, there are two main types of modern types of pivot doors that include:
Mechanical. This type of pivot door is more budget-friendly than automatic ones and if you want to open them you just need to press the handle.
Automatic. Pivot interior doors of this kind open automatically as soon as the person approaches them.
Peculiarities of pivot door construction allow them to operate in any direction, which is quite comfortable, and if you need you can even move the sash with the help of a pendulum mechanism. Pivot doors of the top-quality will provide you with a smooth and light opening while making your interaction with doors as pleasant as possible. Moreover, they usually feature a magnetic lock that helps to increase safety and sound insulation which is very useful when it comes to privacy.
How to Choose Color of Your Modern Pivot Doors?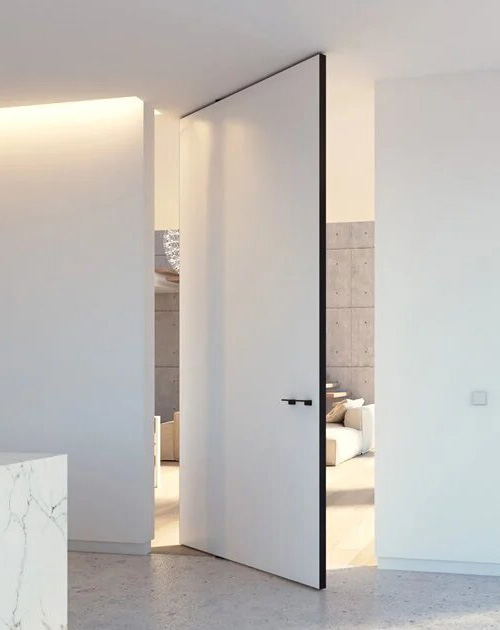 Choosing the right color for your brand-new modern doors is essential if you want to create a balanced interior design. When it comes to selecting the shade of private doors, it is vital to keep in mind that the door leaf should be chosen to complement your interior design but not vice versa. Before picking the color for your doors, think about general style of your room, shades of walls and flooring as well as design of furniture you are to acquire.
In general, the main function of interior doors is to separate rooms, so your contemporary doors should perfectly blend with the overall appearance of your apartment or act as a bright accent. If you are looking for ways to represent your creativity, you can order interior doors featuring a different color on each side. For example, you may get a door leaf of light color in the bedroom while in the living room it can please your eye with a dark color. That will look very stylish and you will get a bright interior solution that will have a fascinating effect.
If you prefer something more traditional, pick European doors that work well with your walls, furniture, and flooring and you will be always in style.
Pivot Doors - Main Advantages of Contemporary Doors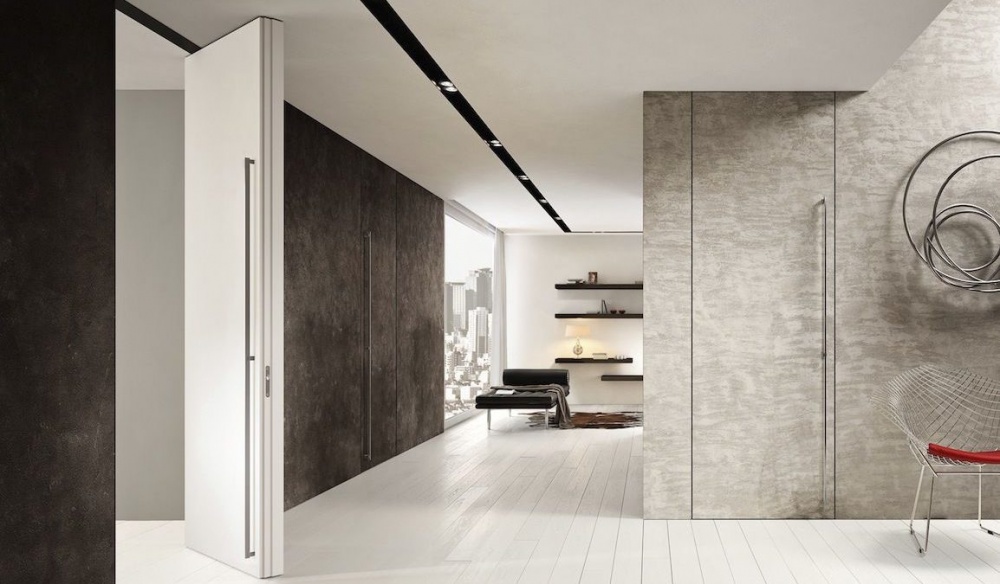 Pivot door is a marvelous way to modernize your apartment even if you have no desire to invest your time and all your money into the redecoration of every room, and it has lots of positive characteristics.
Unique and modern look. Pivot doors can make every type of room look better, be it contemporary apartments or small apartments. They will add a certain flair to your home and elegantly complete the look you are striving for.
High level of heat and sound insulation. Construction of pivot doors features special brush seals that allow you to retain heat and get rid of unnecessary noises while providing you with a peaceful and comfortable environment in your room.
Space-saving. One of the main benefits of pivot interior doors is a special opening mechanism that helps to save lots of additional space which is especially important when it comes to redecoration of small apartments.
Pivot door's mechanism is perfectly suitable for people with disabilities
Pivot Doors - Disadvantages of Modern Doors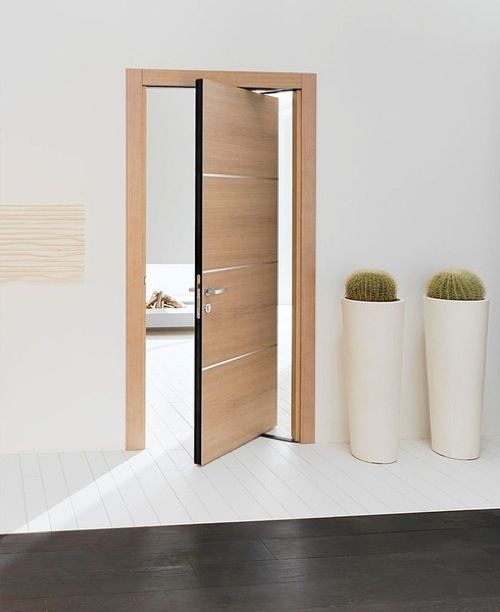 Although pivot doors can boast of an incredible diversity of positive features still there are a few negative aspects related to this type of European door.
Price. A high-quality mechanism that will last for a long time requires considerable amount of money from the homeowner. Apart from the door leaf, the cost of the interior doors also includes a wide range of fittings and the mechanism itself that makes this type of doors so special.
Low weight. Pivot interior doors are usually made of lightweight materials, so if you want them to serve for a long time it is better to refrain from hanging heavy stuff on their handles.
If you are looking for stylish and unique interior design option that will make your apartment brighter, pivot doors can delight you with functionality and satisfy your aesthetic needs with their stunning look.