Choosing right interior doors for your apartment can be very involving and there is a number of aspects to think about when it comes to making your home look stylish and up-to-date. Undoubtedly, there are lots of factors that can influence your decision such as walls color, kitchen cabinets, or even staircases as you want to acquire a durable door leaf that will perfectly blend with your apartment's style and will fully satisfy your esthetic requests. Contemporary interior doors can transfer traditional house into a fashionable place with its individuality and distinctive design, so it is sufficiently important to pick the right model.
Add Some Charm to Your Home with Modern Interior Door Designs
Nowadays, there is an extended collection of contemporary doors to be found on the market which allows homeowners to experiment in various ways and make their whimsical stylistic ideas alive. It goes without saying, that the role of the interior doors has sufficiently changed recently and the majority of people use it as an essential decorative element that can express their exceptional style. You can find different types of interior door designs and use them to accentuate some peculiarities of your apartment's interior design.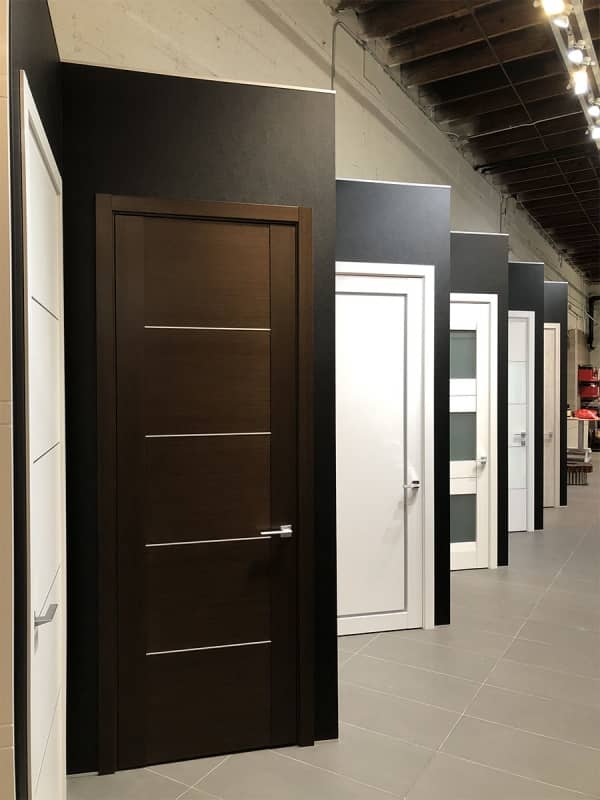 Sliding doors. Investing your money into sliding doors is a reasonable suggestion as they have lots of benefits. Especially, this type of doors is useful if you are short on space or there is a need to adjoin two rooms. If you are looking for a charming interior door option that possess bright appearance and easily blends with versatile styles, choosing sliding doors is a perfect solution.
Swing doors. Hinged doors are an unfading classic that will make your apartment look awesome. They are available in different colors and shapes, so you will be able to find the most suitable model regardless of interior design. Swing doors are easy to maintain and due to the simple and reliable mechanism they can last for a very long time.
French doors. French doors have gained considerable popularity among the homeowners who strive to complement their room with sophisticated decorative detail. They can bring value and elegance to your house filling it with natural light and visually extending your space. French doors have appealing design and you can select literally any color you want depending on your personal preferences.
Pocket doors. When you have small apartment, using every opportunity to save space is a common thing. In this case, traditional swing doors can be really inconvenient and cause trouble. With a pocket door, not only will you get a functional solution to your problem but also you will bring a unique element of strict minimalist style to your room.
Folding doors. Esthetically pleasing and utterly functional they provide maximum space in any room. Folding doors can also fill your apartment with natural light and enhance your exceptional interior style with its sleek look. It is a flawless decision for those who in search of something special and out-of-the-ordinary.
Solid or Hollow Interior Doors?
Contemporary doors fall into two main categories: solid and hollow, so in order to choose the most efficient solution for your home, it is vital to understand their key differences and peculiarities.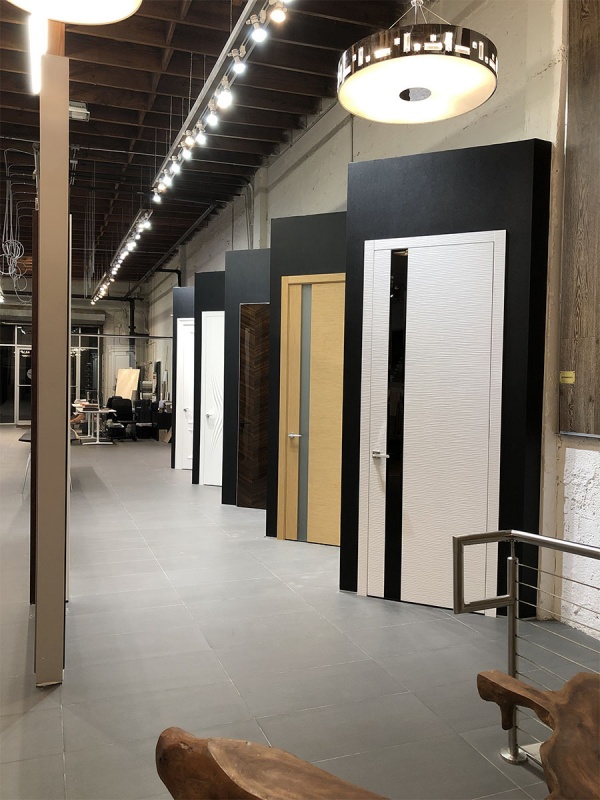 Although solid interior door is quite an expensive option, due to its sophisticated appearance and considerable durability lots of homeowners tend to acquire this type of modern doors. The main characteristic feature of solid interior doors is that they are made with the best pieces of wood such as mahogany, cherry, maple, pine, etc. Solid wood interior doors are quite heavy and due to peculiarities of their construction, they possess excellent sound insulation properties allowing you to surround yourself with a peaceful atmosphere in your bedroom. Contemporary interior doors have sleek design that can work with different types of styles.
Compared to solid doors hollow ones are more cost-efficient. That can allow you to save considerable amount of money, so it is an ideal option when you need to acquire lots of interior doors to decorate your house. They are available in versatile designs, colors, and shapes, so whether you need sophisticated European interior doors or strict minimalist style - you will easily find what you need. Hollow doors are easy to install and transport as they are lightweight. They can complement your individual design and fulfill the basic function of giving room privacy. However, it is worth mentioning, that hollow doors are less durable than solid wood models.
Complementing Your Modern Interior Doors with Accessories
If you want you to make your new interior door design look astonishingly perfect choosing the right door hardware is highly important as it can considerably alter the general appearance of the door you have purchased. Carefully chosen door handles and doorknobs can serve as an appealing decorative element that can complete your personal interior look. Moreover, there is a vast range of accessories for contemporary interior doors at stock that can tie together versatile decorative details and make your daily interaction with your doors as pleasant as possible. Nowadays, there are lots of appealing options when it comes to picking door hardware and you will definitely want to find the most suitable and efficient option for yourself.
Sound Insulation
When it comes to purchasing contemporary interior doors, the first thing we pay attention to is their style and appearance, but if you want to provide yourself with a private space where no one will disturb you, then it is vital to consider sound transmission rating. For instance, a rating over 60 is considered soundproof, while doors with 25 rating or lower possess terrible sound properties and they will unlikely save you from noise. So, if sound insulation plays for you an important role then you should stick to contemporary doors with a high thickness.