Our well-being highly depends on our surroundings, so it is really important to create an atmosphere of happiness and tranquility at your house. Choosing appropriate color of walls as well as acquiring furniture that will perfectly suit your tastes plays essential role in creating positive mood and healthy environment at your home.
Although often overlooked, one of the most significant aspects of interior design is picking the right model of doors. It can alter the general appearance of your apartment and make it more up-to-date. In search of ideal options, many people eventually stick to European doors as their flawless reputation serves as a sign of quality and durability making them quite popular among the costumers.
What Are the Main Benefits of European doors?
It is clear that apart from appealing look, interior door has to be able to serve for a long time, so one needs to consider not only decorative elements the door leaves features, but also quality of materials used for their productions.
Among the seemingly wide range of models on the market, unfortunately, a few of them can boast of reasonable price and quality. However, European interior doors managed to combine all the best features and produce models that easily surpass other manufacturers due to the range of advantages: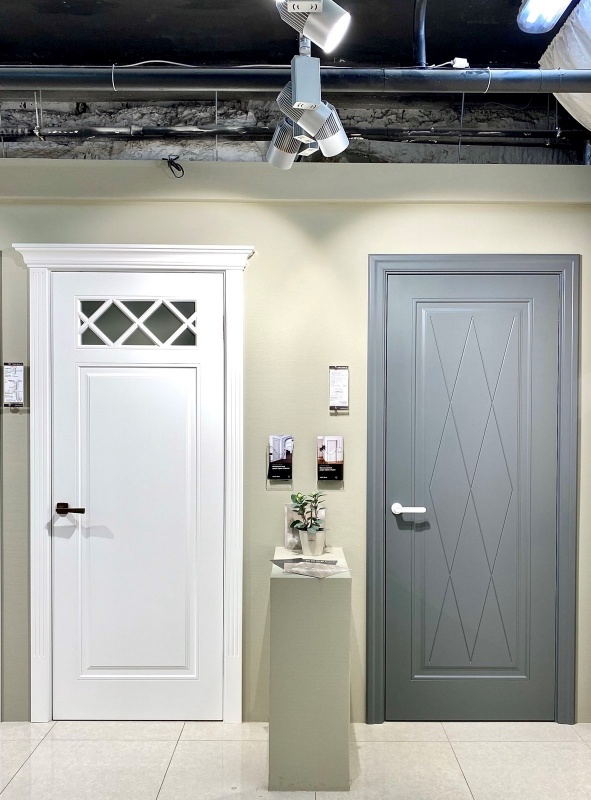 Versatile designs. Whether you are looking for something extraordinary to complement your whimsical interior style or your passion is strict Classical design, European doors have lots to offer. With an extended choice of shapes, forms and styles, they represent a considerable collection of models to pick from, so your apartment will look gorgeous and fashionable.
High quality. European interior doors gained their considerable reputation in the world market due to their top quality and reliability. They are more durable and resistant to various types of damages like cracking, shrinking and warping which means that you will enjoy their attractive appearance as long as you wish. They are made of the best real pieces of natural wood and finished with sleek veneers such as oak, American walnut, black apricot, wenge, mahogany etc.
Reasonable price. You will be able to satisfy your architectural and esthetic requirements according to your financial abilities. Along with costly contemporary doors, there are also lots of pocket-friendly alternatives combining attractive designs with affordable prices, so with European doors you will find what you need.
Functionality. Nowadays, interior doors are more than only decorative elements of apartment. You can find sophisticated European doors with excellent noise insulation, allowing you to get rid of superfluous sounds in your bedroom or visually enlarge your living space with glazed door options.
Main Types of European Doors
Contemporary market is rich in interior door models, so it is essential to understand their main peculiarities and differences in order to choose the most suitable stylistic option. The main types of European interior doors include: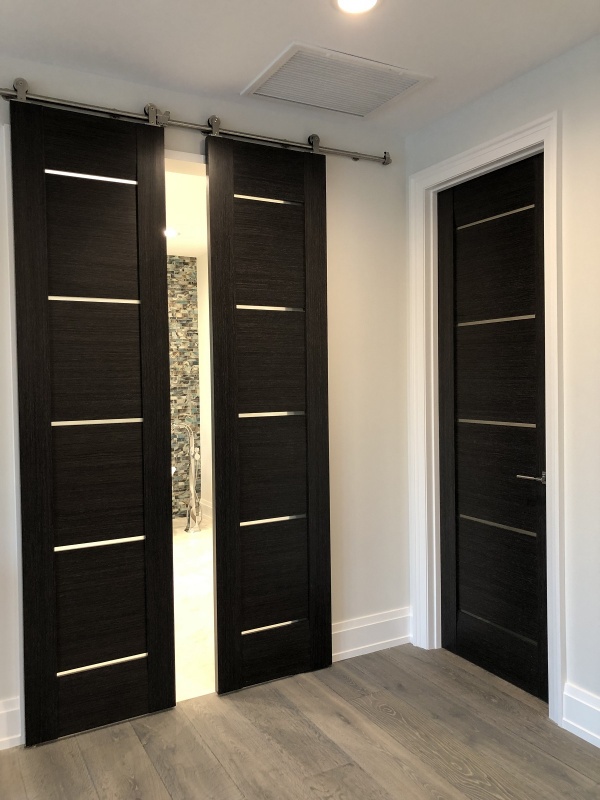 Swing doors. They are often chosen by homeowners who stick to traditional interior door solution as they are available in different finishes, styles, shapes and prices. Swing doors are easy to operate: the one edge of the doors is fixed on hinges while another one swings inside and outside. It is suitable for bedrooms, living-rooms, kitchens, closets or bathrooms.
Pocket doors. They work well with limited spaces and provide pleasant-looking door slab that effortlessly blends with various interior designs. It is special type of sliding doors that is mounted on the rolling overhead track and goes inside a niche in the wall. They are very useful for small rooms where every inch is essential. Pocket doors are good for toilets, closets, bedrooms, etc.
Bi-fold doors. Constructed of series of sliding panels that fold up against the wall, this type of European doors represents queer stylistic option. Some of the models feature glass panels that can fill your room with considerable amount of sunshine and play role of room divider. A bi-fold door is an excellent choice for smaller areas.
Bypass doors. If your creative soul looks for out-of-the-ordinary and user-friendly interior doors for closet, bypass doors will suit your esthetic desires perfectly well. Bypass doors smoothly slide from side to side. They can be made of wood or include glass inserts with different level of transparency such as clear glass, frosted glass, smoked glass as well as opaque glass.
Indigo Doors –your Personal Provider of High Quality European Interior Doors
Indigo Doors offer virtually limitless European door configurations, styles and designs. Our models possess distinct individuality and supreme quality. Indigo Doors presents extended collections of interior doors that can signify your apartment's peculiar style and enhance the general look of your house.
Indigo Doors provides top-quality products made of the greatest natural wood species that are highly resistant to rigors of life. It presents sleek European doors finished with environmental friendly eco veneers of different types including Bianco Noble, Grey Chestnut or Eco Wenge, as well as natural exotic wood veneers such as Black Apricot, White Ash, Bleached Oak, American Walnut, etc. You will certainly find a solution that will perfectly match your budget and preferences.
Our doors are available in the following configurations: swing, pocket bypass, bi-fold, double swing, barn, magic, frameless, pivot, rotary or compack. All of them are characterized by unique style and original look allowing you to express yourself and create an impressive interior design at your house. You will acquire interior doors with trendy and practical hardware. Decorate your European doors with handles that will perfectly match your taste. Indigo Doors offers exquisite levels in different shapes and color as well as reliable locksets if the matter of privacy is essential.