Choosing decent interior doors is a difficult task that requires some skills and basic knowledge. You can spend lots of costs trying to make your house look ideal, but if your interior doors have ugly appearance it can easily spoil the general impression and make your apartment design tasteless. While choosing the most suitable interior door solution, sophisticated look and appealing design are the top priorities. However, if you are yearning to acquire not only elegant but also reliable European interior doors that will effortlessly endure the rigor of life, then it is worth considering the type of materials used for their manufacture, as it defines their quality as well as aesthetic look. While personal preferences and style are the utmost factors influencing our decisions, quality and function are highly important too.
Nowadays shops offer contemporary interior doors constructed of the various materials, so picking the right option for your home is a perplexing task. How to make the right choice and not to be fooled? Indigo Doors provides you with a quick guide that will help you to make an informed decision and pick the best possible material for your modern interior door.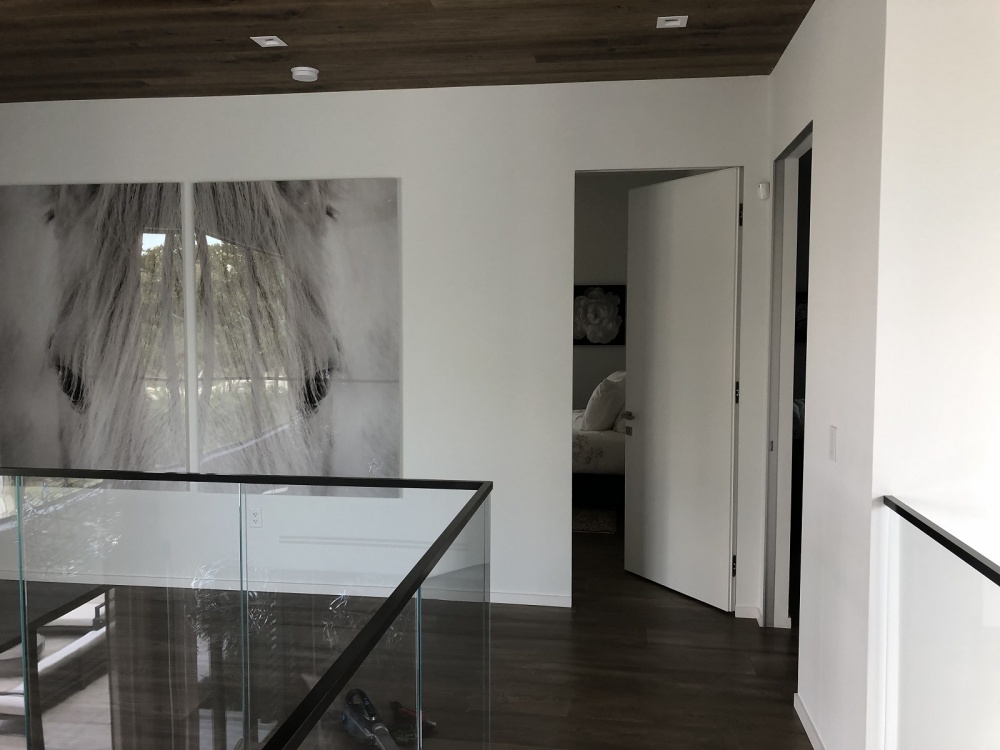 Solid wood
Solid wood gained its reputation due to the natural and hefty appearance. It is a perfect solution for people who favor tradition and classic designs, as solid wood interior doors easily blend with the different decorative elements creating the atmosphere of coziness. The whole door leaf is made of the natural wood species including hardwoods like mahogany and softwoods such as pine. Other generally popular wood species include maple, walnut cherry, etc. There are many types of natural wood species used to manufacture modern interior doors, as a result, prices vary widely depending on the model and material.
Contemporary solid wood interior doors feature not only single slabs of wood. Several models are also built with a frame-and-panel construction.
Solid wood interior doors are highly resistant to cracking and they can serve as a perfect sound barrier allowing you to sleep well while other family members are watching TV in another room. Generally, solid wood classic interior doors are quite expensive, but lots of people acquire them due to their durability, attractiveness, and usability.
Advantages: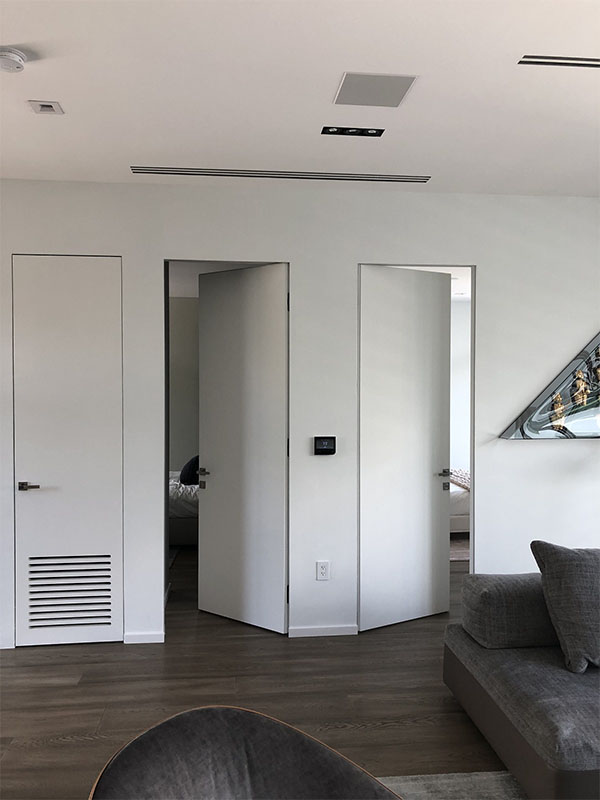 Strong and sturdy

Long-lasting construction

Excellent sound insulation

Appealing look
Disadvantages:
Expensive

May expand or shrink due to the abrupt changes of temperatures
Solid wood interior doors is a perfect stylistic option for those who value authentic look and want to add impressive detail to their design.
Hollow-core doors
Hollow-core interior doors is a cheap alternative to solid wood as well as solid-core modern interior doors. They are made of the wood outer frame or hardwood surface and filled with honeycombed core. Hollow-core European interior doors are suitable for any budget and often used for rooms such as closets, bathrooms or bedrooms. Those models feature a fiberboard honeycomb structure that provides utter strength of the door leaf preventing it from warping or bending. The greatest advantage of hollow-core interior doors is their price, so if you are on a tight budget, but there is a necessity to change the interior doors throughout the entire house, you can save a significant amount of money by choosing that type of door. Affordable and light they can be installed in no time.
However, due to the material used for its manufacture, those interior doors are poorer in terms of quality when compared to solid wood or solid-core European modern interior doors.
The sound insulation is also weaker due to its composition and they are less durable and fire-resistant.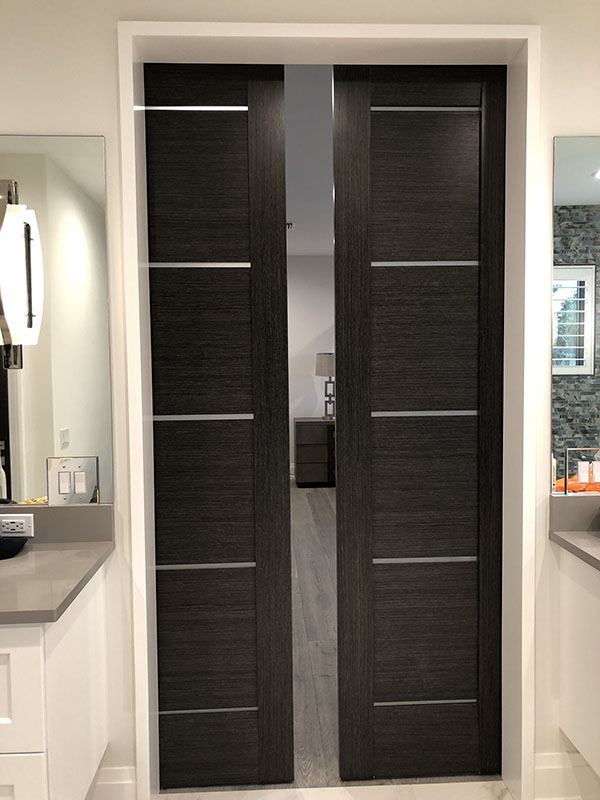 Advantages:
Affordability

Easy to install

Resistant to the temperature changes

Seldom warps
Disadvantages:
Poor sound insulation

Weak structure

Poor fire resistance
If you need inexpensive and budget-friendly interior door solution, then hollow-core door is something you are looking for. However, if you want to indulge your sophisticated taste with the impressive Italian design interior doors or gorgeous classic interior doors of top quality - solid wood or solid-core doors are better options to choose.
Solid-core doors
Solid-core interior doors models combine relatively low prices with considerable durability and appealing natural wood surface. That type of interior door is made of engineered wood finished with the various quality natural wood veneers such as walnut, oak, black apricot, chestnut, and many others. Natural wood finishes resemble the alluring appearance of solid wood interior door and sleek surface. The main virtue of solid-core modern interior doors is their affordability comparing to solid wood doors and absolutely astonishing look that easily can serve as an alternative to the doors made of 100-percent wood. Available in various shapes, colors and designs they easily complement even the most extraordinary stylistic solutions.
These interior doors offer excellent sound blockage and perfect fire resistance. The peculiarities of their construction make them resistant to expansion due to sudden changes of humidity allowing them to remain unchangeable for a long time. Solid-core interior doors were created to last forever and they are easy to maintain.
Advantages:
Middle-priced

Good sound blockage

Fire-resistance

Sturdy construction
Disadvantages:
Solid-core interior doors are multi-purposed doors available in various styles and forms. They are widely used in commercial and residential buildings offering extravagant appearance combined with convenience and durability.
While choosing interior doors for your home, it is highly important to consider not only the overall look of the models but also understand whether quality fits the price. Indigo Doors collections offer interior doors made of high-quality materials that will highlight your personal style and serve for years.