Regardless of style you chose to decorate your home, it is important to pick right interior doors that could harmonically blend with the general idea of your design. With a wide range of options at stock, you can effortlessly find the door model suitable for your taste, however, the latest fashion trends show, that black color becomes more and more popular among the lovers of extravagant designs. Sleek surface, obscurity of darkness and the flavor of mystery are main associates of black modern interior doors making them a beloved stylistic solution for interior designs of various looks. Nevertheless one should be careful when applying dark elements to make his apartment look up-to-date. It is highly important to consider various nuances that will allow creating a tasteful design resembling your personality.
A few reasons for black interior doors popularity
Door leaf of a dark color is a great decorative element. It can utterly change the overall appearance of any home and fill your surroundings with sophisticated charm. Leading designers claim that black color easily complements different styles enriching them with notes of delicate extravaganza. Nowadays, dark color scheme is no more reflection of sadness combined with depression, but rather a way to experiment and create an impressive individualistic style. There are a few reasons making black interior doors unsurpassed detail of modern houses: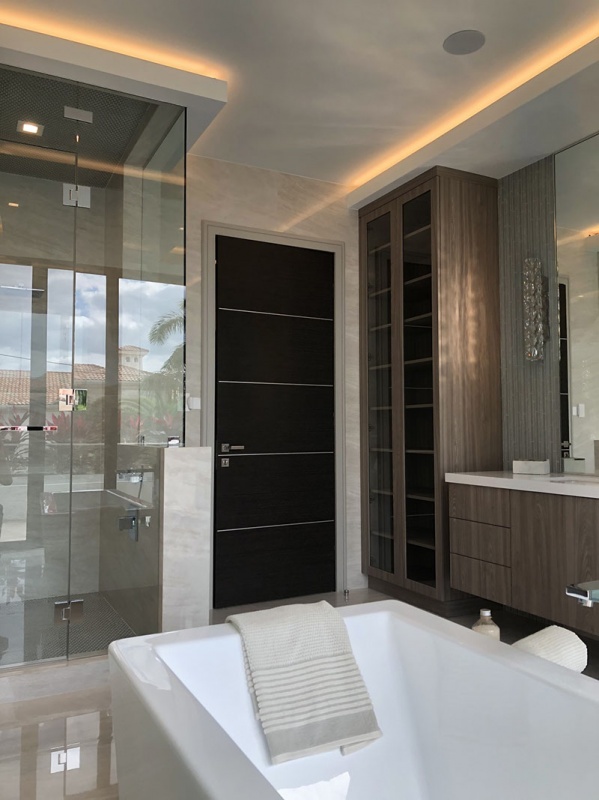 Functionality. While white doors tend to become dirty in a few weeks, black ones retain their stunning appearance for a long time, so minor marks, smudges or fingerprints remain unseen unless you decide to take a closer look. They are easy to keep clean and maintain.

Create an atmosphere of luxury and wealth. Those doors work well with minimalistic designs and emphasize an intricate home-setting by adding contrasts to the apartment's look, so your house will instantly acquire features of tasteful richness.

Flexibility. Although black interior door is a brave stylistic solution, it compliments easily with light and dark colors allowing experimenting and decorating the apartment in the best possible way.

Framing a space. The main aim of interior doors is to divide and separate living space, so everyone could feel comfortable. Equipping yourself with black doors not only serves as a functional barrier between the rooms but also frames a space making the whole look of the apartment distinctive and out of the ordinary.
Combination of black interior doors with light decor
It looks very stylish and elegant when combined with interior light color scheme. However, it is vital to stick to the basic rules of interior decorations and furniture harmonization to get the desirable results. For example, black doors blend well with minimalistic light walls complemented with a couple of shades lighter floor. That contrast visually extends the apartment making it more spacious and cozy as well as it can increase the overall esthetics of your personal design: such a distinct contrast of traditional colors create an impressive look substituting common stylistic patters with the ambivalent sophistication. It is impossible to mess up with all-white light color scheme as you get an empty canvas that you can fill with bright objects such as black interior doors to convey your personal ideas and put an emphasis on particular detail.
Black doors with dark color scheme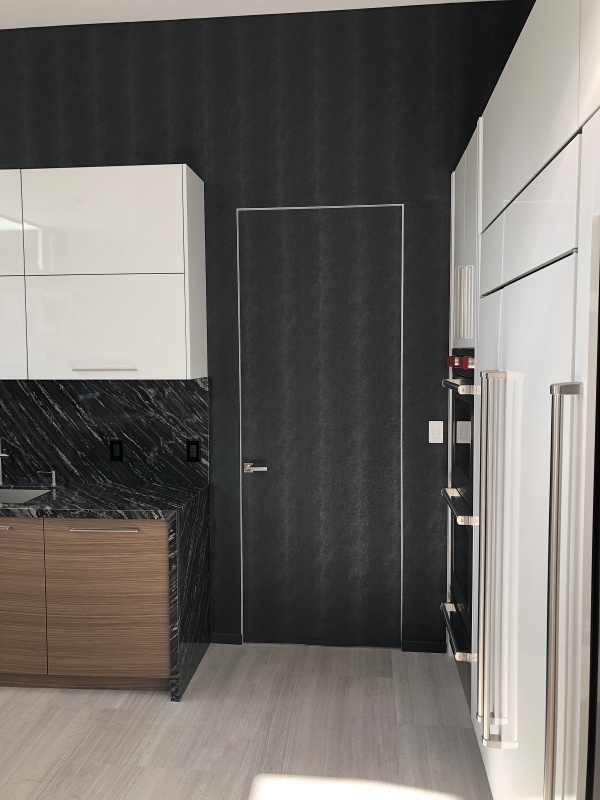 Generally, choosing dark palette to decorate your house unlikely seems to be the best option, but picking right colors makes even the dullest tint look different. Combination of dark door leaf with slightly lighter floor is definitely an advantageous stylistic option. Subconsciously, we perceive interior design picture from top to bottom, so if there is a light ceiling and dark floor coating in the room, then interior doors play role of a connecting link. However, mono-gamut design solution is only suitable for large living spaces, as it can visually turn small apartment into the hobbit hole. Thus, you can acquire dark modern interior doors only if your house possesses high ceilings and large panoramic windows. Equally important is high level of room illumination.
Dark interior doors in various styles
ideally blend with contemporary and modern interior designs, where freedom of self-expression is a top priority. It is also important to consider material used for their production, as each type has its own peculiarities. For example, an ideal option to emphasize modern style of your house would be choosing models made of walnut, wenge, merbau, exotic oak, tropic ash, teak, panga-panga etc.

Minimalism. Characterized by austerity in decoration and strict laconism, it is achieved though combination of two colors and the use of functional interior items. Its main features are compactness, strict geometric shapes and flat reflective surfaces. In this case, dark doors will work well with the overall look of the apartment representing complete esthetic harmony.

Eternal classics. Classic interiors never go out of the fashion and still remain popular nowadays. Pastel color wall surface complemented with dark tint floor coating will look gorgeous with black models of interior doors. It is also sufficient to decorate your doors with appropriate hardware, because when it comes to classic design, every detail has to be ideal.
There is nothing more thrilling than redecorating your living space. Dark or black interior doors can make it more alive and attractive. Their sophisticated style and sleek surface allows to create whimsical stylistic combinations, so for people, who got tired of ordinary apartment look, that would be a marvelous opportunity to alter their surroundings. Nowadays, there are versatile options of modern interior doors to choose and dark ones is a fashionable alternative to more traditional models.