If you have noticed that your interior doors look like a wretched piece of wood, it is time to renovate your apartment and crucially upgrade its look. Properly chosen doors can emphasize your personal style and serve as a perfect decorative element that will make your apartment radiate with freshness and individuality. Interior doors play not only essential part in creating the right atmosphere in your house, but also possess range of functions allowing you to divide your space reasonably as well as feel more comfortable in your room.
However, you may easily get lost while choosing appropriate type of contemporary doors that will perfectly suit your budget and personal taste, so it is highly important to equip yourself with necessary knowledge. It will help you to transfer your shopping experience into pleasant pastime.
Timber or Wood Contemporary Doors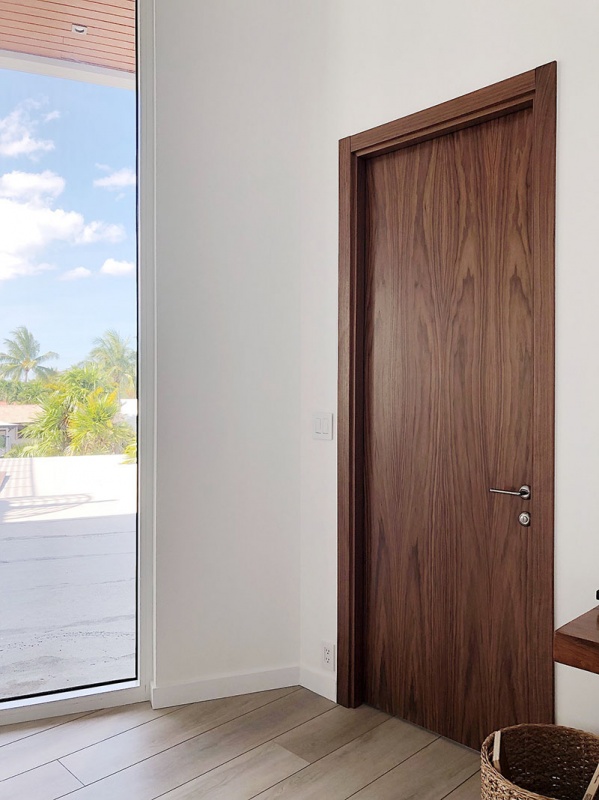 Wood doors have always been a popular option due to its appealing look and reliable construction. They are available in various shapes and colors allowing you to satisfy your esthetic requirements by enriching your sleek apartment with coziness, attractiveness and natural luxury. The main types of wooden materials used to make durable contemporary doors include:
Hardwood. It is quite an expensive and premium-class type of interior doors; however, discernible benefits of their construction are worth their price, as they are characterized by strength, security and high level of resistance to the turmoil of everyday life. Compared to softwoods, hardwoods have greater density and hardness. They come from trees with broad leaves such as beech, oak, ash, mahogany, cherry, walnut, teak etc.

Softwood. It is an ideal pocket-friendly alternative to the hardwood door leaves that possess immaculate appearance and sleek surface. The main source of softwoods is cone-bearing trees such as cedar, fir and pine. Properly chosen models will ideally complement your peculiar design.
Many homeowners stick to traditional contemporary doors made of wood not only due to their esthetic properties but also due to their functionality:
Solid and reliable. Their formidable appearance effortlessly blends with versatile styles adding exquisite favor of charm to any house.

Provide excellent noise insulation. Wood serves as a perfect sound insulator, so noisy kinds of kitchen sounds will never bother you.

Durable. High-quality wood can serve for a long time with no changes in its appearance.
Frame and Panel Interior Doors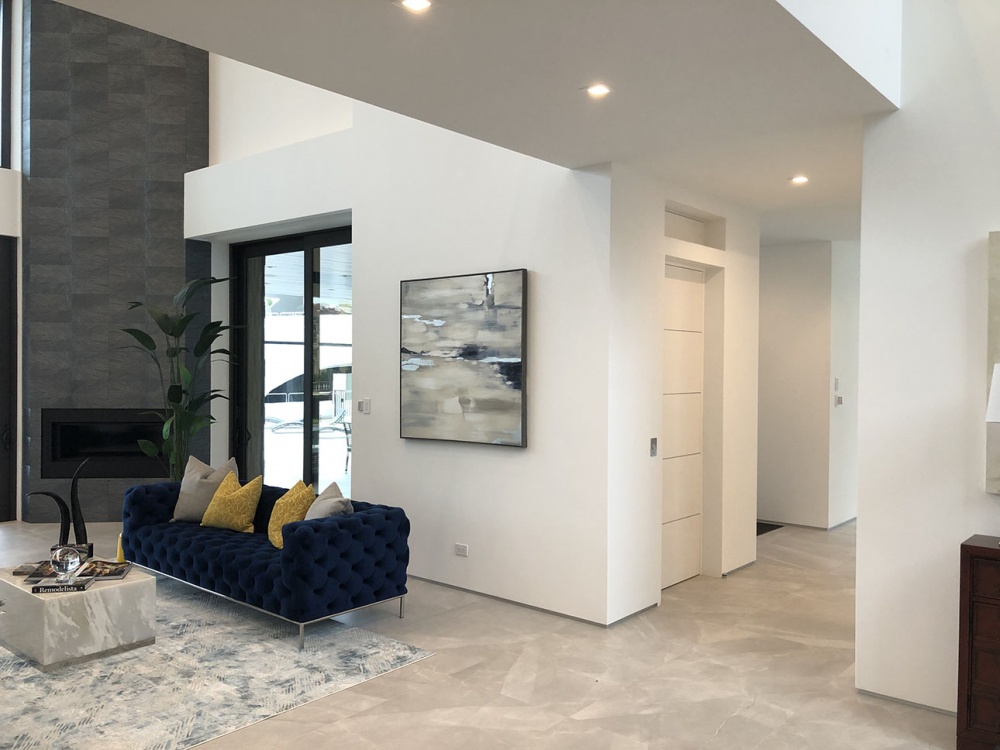 Nowadays, they are regarded as a stylish interior solution with distinct features and pleasant appearance. It is one of the best ways to decorate your house with good-looking, strong and lightweight contemporary doors for a reasonable cost.
Panel door leaf is based on a peculiar construction which is generally divided into panels. There can be any number of panels forming different patterns, shapes and unique styles, set into a frame made out of timber, hard board, wood, plywood, etc. The door leaf panels may be dressed up with a number of designs creating a unique combination of strong individuality and flexibility. This type of doors allows manufacturers to experiment with their look and create a wide range of architectural profiles.
Traditionally, frame and panel interior door models are made of solid wood, but being high-priced they are barely affordable to every pocket, so lots of homeowners stick to the cheaper MDF alternative. Although they are less durable compared to wooden models, visually they serve as a marvelous substitution.
Flame and panel doors advantages are:
Stability. Flame and panel doors are resistant to splitting and cracking.

Flexibility. They can easily complement various interior styles harmonically emphasizing harmonically necessary details of your apartment. The most common flame and panel models represent a nice stylistic solution for designs ranging from Victorian to modern interiors.
Glazed Interior Doors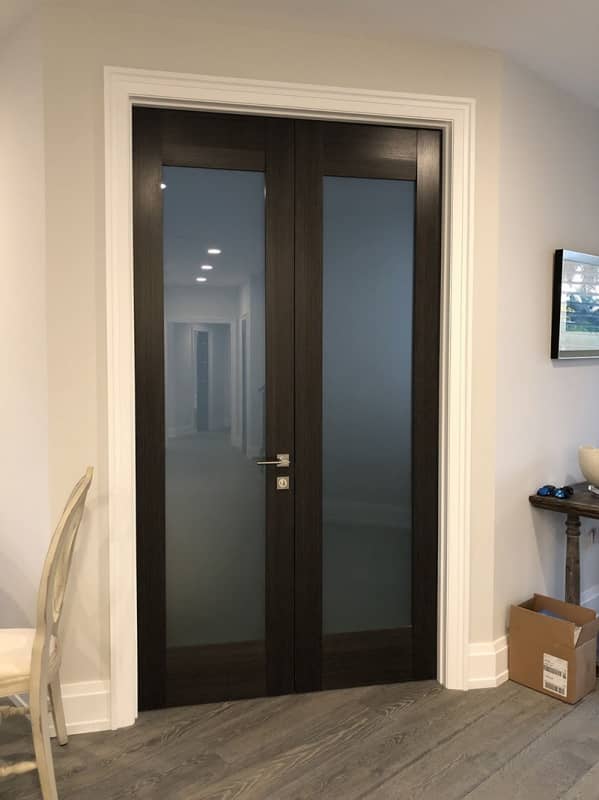 Those models allow you to brighten up your house and fill your rooms with natural sunshine making it more spacious and up-to-date. Glazed doors can add some elegance to the general atmosphere of the apartment's style and that is what makes them highly preferable among the lovers of modern designs.
Glazed doors feature glass inserts fitted carefully into the door leaf. The range of glass options at stock is enormous and differs according to their main functions and properties. Glazed doors can serve not only as a beautiful decorative element but also as a functional detail that will conveniently divide your living space.
The main types of glass used for interior doors include:
Tinted glass. If you want to acquire an original stylistic solution, tinted glass is a great choice. It can add some color to your doors and reduce natural sunlight coming to your rooms.

Textured glass. This option will allow you to get lots of sunshine flowing through the internal door, however, preventing you from getting a clear view through its door leaf. You may choose frosted, ripple, beveled or weave glass.
Glazed interior doors are perfectly suitable for those who would like to transfer their rooms into the spacious and light living space. If you want to enjoy natural sunshine flowing through your door and radiate from positive mood, these models will be ideal for you.
Flush Contemporary Doors
A flush door is a commonly used type of contemporary doors that due to its construction peculiarities is highly resistant to noise, dust and heat. Those models possess smooth sleek surface fixed on the light timber frame transferring them into appealing decoration of every apartment.
Flush doors can be divided into the following categories:
Solid Core Flush Doors

Hollow Core Flush Doors
Solid core flush doors represent one of the most durable and reliable kinds of flush doors, as they feature combinations of materials such as hard and mineral composition wood, face wood veneer, laminated core, MDF, particle board, etc.
Picking the right model of contemporary doors is a tricky task, but wisely chosen option will adorn your home and make you feel happy.