Undoubtedly, kitchen is one of the most sufficient places at your home. It is part of the warm and secure home hearth, where the whole family members can gather to eat something tasty, spend time together or treat guests with unique dining experience, so it is highly important to create the atmosphere of easiness and relaxation in your kitchen. One may achieve that through careful color harmonization and proper interior design. However, being too concerned with the general appearance of the kitchen, people often overlook such a vital stylistic detail as interior doors. Wrongly suited interior door model can easily ruin the general impression of your kitchen as well as saturate all your expensive furniture with smell of fried food, so it is highly recommended to equip yourself with quality modern interior doors.
Interior doors as a functional part of the house
It is clear that kitchen is a «technical room» used for cooking, where cooking appliances and members of family, who are always willing to eat something, occupy lots of space, so each centimeter of free area is at a premium. Since kitchen is a main source of steam, heat, odors and cooking noise, installation of durable interior doors is a perfect option to separate your apartment from kitchen and leave evidence of cooking process behind the closed doors. In cases, when extractor hood is useless, interior doors prevent penetration of food smell into the other rooms. Also, they contribute into safety of small children when using cooking appliances, and serve as an ideal noise insulation. As a matter of fact, closed kitchen is more pleasing aesthetically, because it creates compact and cozy interior, so one can feel really comfortable while sharing breakfast with family.
How to pick the best modern interior doors for your kitchen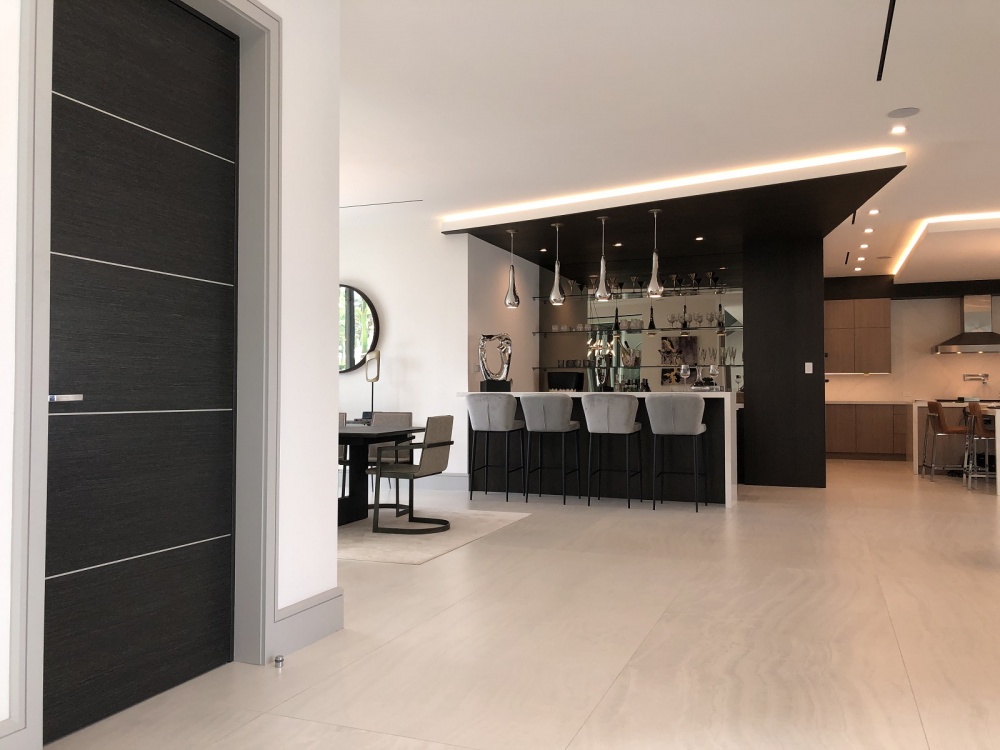 If you want to choose the best suitable solution for your kitchen, then you should clearly define your needs and understand what type of doors will ideally blend with your preferred style. There are a few basic things to consider:
Material. Kitchen interior doors should be made of durable and temperature resistant materials.
Tightness. It is recommended to stick to the models with high level of tightness, so you could make them close as tight as seal while cooking. That will prevent cooking odors from spreading throughout the whole house and leaving their traces on your favorite furniture.
Noise insulation. If you are an avid lover of cooking, then acquiring European interior doors with utmost noise insulation is a top priority. That is a marvelous way to muffle kitchen sounds resulting from the work of cooking appliances such as electric kettle, coffee machine, etc.
Appearance. Creating a sophisticated interior design requires lots of effort and when it comes to choosing sleek interior doors for kitchen, attractive look and good surface are highly important. There are versatile models available in a vast range of sizes and finishes, so you will definitely find interior doors that will effortlessly complement your kitchen design.
Choosing interior door style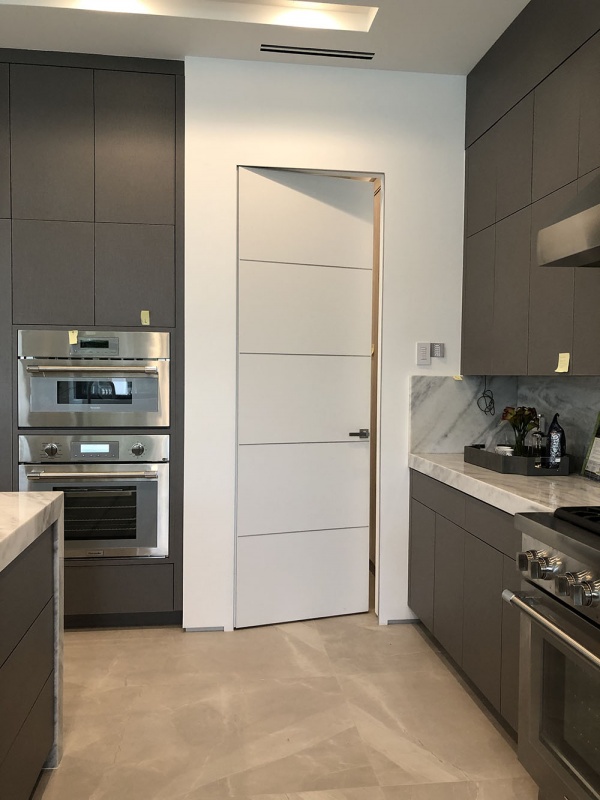 If you make your mind to do some refreshments in your apartments, you need to understand that your new modern interior doors should perfectly blend with general design of the house. Since kitchen door is a connecting link between the rooms, it should create a positive impression and enhance the overall look of the house. For example, traditional interior swing or sliding doors nowadays are presented in different finishes and colors, so they can complement any preferred style or decor. Whether you stick to minimalism, contemporary design or everlasting classics - interior doors will serve as an attractive detail making your kitchen not only cozy but also appealing.
Types of interior doors
It is important to distinguish and understand main peculiarities of different modern interior door types, so you could choose the most convenient option for your kitchen.
Interior swing doors. It is traditional type of door used for passageways in kitchens. They are made of one or two door leaves placed on hinges and swing open in either direction. They are generally characterized by a high level of noise insulation, resistance and durability. You can choose models produced of natural wood and finished with high-quality eco veneers, wood veneers or pick modern interior doors with glazing option filling your kitchen with light.
Interior sliding doors. It is an ideal solution for small kitchens allowing to save lots of space and use it more efficiently. They run along metal tracks fitted into their frame and move parallel to the wall. That creates special atmosphere making your kitchen look more appealing and fashionable. Sliding doors are suitable for those people, who strive to update their houses in accordance with contemporary trends without redecorating the whole apartment. If you are searching for contemporary interior doors that will look appealing and up-to-date, then sliding option is what you need.
Interior folding doors. This type of doors is an efficient option for homeowners who want to maximize usable wall and floor space. They are composed of series of panels that fold up against the wall like an accordion. Folding doors is one of the best alternatives to traditional swing doors. They are available in multiple colors and materials and due to their peculiar configuration folding doors are characterized by high level of flexibility.
Undoubtedly, modern interior door is an irreplaceable attribute of superb design. It should be not only functional but also possess pleasing esthetic appearance and satisfy your personal tastes. If you feel the necessity to redecorate your kitchen, acquiring new interior doors is a perfect option, but remember to follow the general design of your house to make it look flawless.